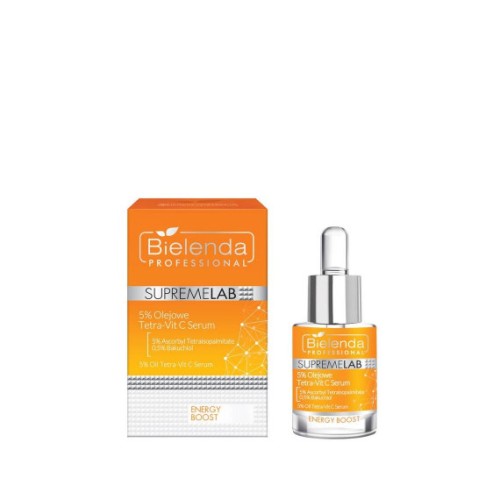 Bielenda Professional SupremeLab Energy Boost Oily 5% Tetra-Vit C Serum 15ml
ID:

5319

Available:

11

Brand: SUPREMELAB
Model:

137756
Oil serum with vitamin C has a brightening effect, brightens the skin and helps fight discoloration. Provides protection against photoaging. It has the formula of a dry oil, does not leave an unpleasant, greasy, sticky layer on the skin.
What ingredients does the serum contain?
Vitamin C as ascorbyl tetraisopalmitate in an oily form. Exactly in the serum there is a lipophilic precursor of vitamin C, which is easily transformed in the skin into a biologically active form of vitamin C. It perfectly penetrates the deeper layers of the epidermis. It has a strong lightening effect on the skin, counteracts sebum oxidation, and stimulates collagen synthesis.
Ferulic acid is a strong antioxidant, it moisturizes the skin and has depigmentation properties. In combination with vitamin C, it shows synergy in action - it increases its stability.
Jojoba oil softens the skin and supports its regeneration, protects against moisture loss, firms and regulates the level of sebum secretion.
Isoamyl laurate - emollient obtained from wheat seeds and coconut oil.
What will you gain by using the serum?
Brightening of discoloration
Reduction of imperfections
Unifying the skin tone
Revitalization and nourishment
Antioxidant effect and reduction of signs of aging
Capacity : 15 ml