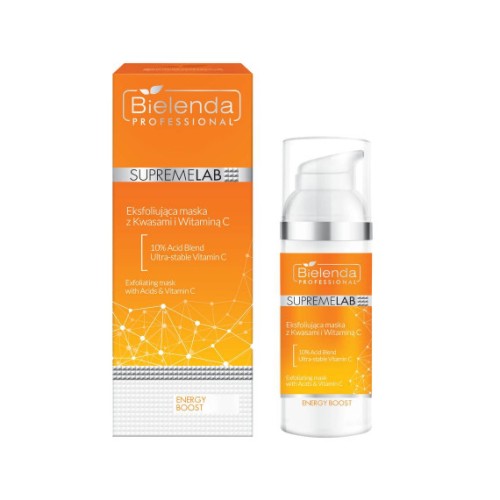 Bielenda Professional SupremeLab Energy Boost Exfoliating Mask with Acids and Vitamin C 50g
ID:

5318

Available:

8

Brand: SUPREMELAB
Model:

137757
The exfoliating face mask contains a combination of vitamin C and acids. It brightens, brightens and protects against photoaging. It smoothes, improves the skin structure, restores its glow and vitality. It also improves the condition of problematic skin.
What ingredients does the mask contain?
Vitamin C in the form of ethylated ascorbic acid. It has a strong lightening effect on the skin, counteracts sebum oxidation, and stimulates collagen synthesis.
10% ACID BLEND - glycolic acid and gluconolactone . It is a mixture of acids that ensures a gentle and effective exfoliation of dead epidermal cells. It smoothes, refreshes and prepares the skin for the next stages of care.
What will you gain by using the mask?
Improving and unifying the skin tone
Brightening of discoloration
Exfoliation of dead epidermal cells
Refreshing the skin
Restore vitality and healthy glow
How to use the mask?
Apply for about 20-30 minutes on cleansed facial skin.
Tags:
Bielenda
,
Professional
,
SupremeLab
,
Energy
,
Boost
,
Exfoliating
,
Mask
,
with
,
Acids
,
and
,
Vitamin
,
C 50g