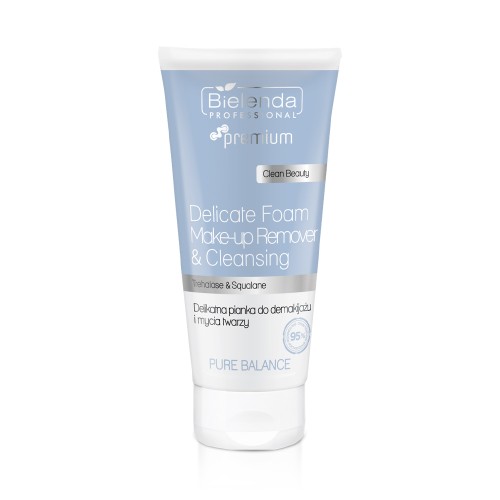 Bielenda PRO PURE BALANCE delicate foam face wash 160ml
A product with the consistency of a fluffy foam that impresses with its formula. The mild washing substance contained in the foam effectively removes make-up, all impurities from the skin and supports the skin barrier. In addition, active ingredients with a broad spectrum of soothing action complement the functionality of the product. The foam perfectly degreases the skin and is also recommended as the second step in the cleansing stage.
APPLICATION: apply the preparation on the skin of the face, neck and cleavage and gently massage with circular movements. Then, using wet treatment wipes or a towel, carefully remove the preparation. Avoid the eye area - rinse with water in case of contact.
ACTIVE INGREDIENTS:
TREHALOSE
• the natural function of trehalose is to protect human skin against harmful environmental factors,
• is an effective moisturizer, protects fibroblasts against dehydration
• provides water to the tissues, thus reducing the effects of its drying and helps to preserve the natural structure of the skin.

SQUALANE
• colorless, odorless and biodegradable oil,
• is obtained from plant sources such as olive oil, oil amaranth seeds or rice bran,
• moisturizes, smoothes and firms the skin.
D-PANTHENOL
• has a soothing, calming and anti-inflammatory effect.
PREBIOTIC
• satisfies all the needs of the bacterial flora, activating it work and balance,
• in INCI Alpha-Glucan Oligosaccharide.
COCO-GLUCOSIDE
• coconut oil polyglucoside,
• non-ionic surfactant,
• ultra-gentle substance for the skin,
• safe for the environment, completely biodegradable.
Ingredients (INCI):
Aqua (Water), Stearic Acid, Palmitic Acid, Propanediol, Glycerin, Squalane, Trehalose, Coco Glucoside, Potassium Hydroxide, Stearyl Alcohol, Panthenol, Alpha-Glucan Oligosacharide, Inulin, Xanthan Gum, Disodium EDTA, Ethylhexylglycerin, Methylparaben, Phenoxyethanol, Parfum (Fragrance).